Fun Cards: 1988 Donruss Highlights Award Winners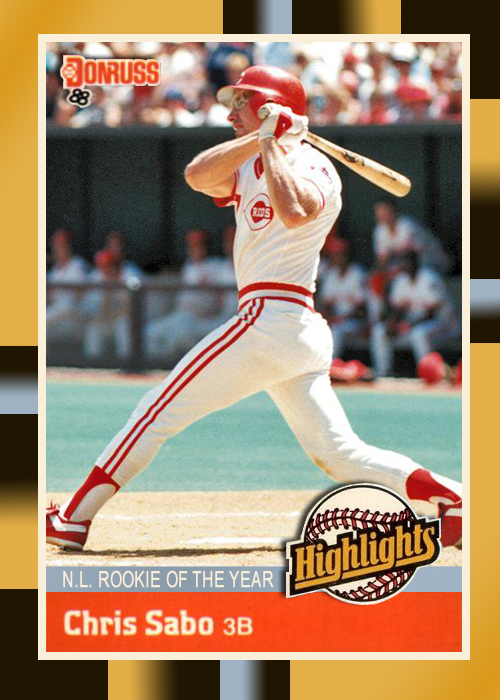 During a Twitter discussion earlier tonight, the topic of year-end highlights baseball sets came up. I immediately thought of the Donruss Highlights sets which were issued from 1985-1987. I'm disappointed this set did not continue beyond 1987, and wondered what a 1988 edition might look like. I tried to go with a gold border with silver in place of the red gradient. It is similar to the "Baseball's Best" set, but not quite as orange. Since I don't have the font Donruss used in 1988, I simply copied-and-pasted the nameplate from an actual 1988 release.
Here are the 1988 Award Winners: Chris Sabo, Walt Weiss, Kirk Gibson, Jose Canseco, Orel Hershiser, and Frank Viola.
Posted on November 5, 2019, in baseball, baseball cards and tagged 1988 Donruss, Chris Sabo, Cincinnati Reds, Frank Viol, fun cards, Jose Canseco, Kirk Gibson, Los Angeles Dodgers, Minnesota Twins, Oakland A's, Orel Hershiser, Walt Weiss. Bookmark the permalink. Leave a comment.